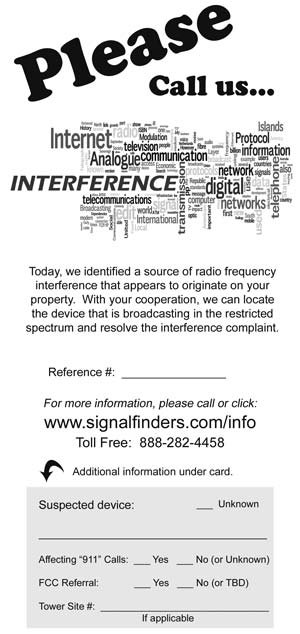 Thank you for contacting us!
(Para Espanol, por favor haga clic en aqui'.)
If you received this notice, it means our engineers have traced an interference signal to your property.
We'll need your help to get the problem fixed.
Signal Finders LLC is a licensed and insured Florida-based company that specializes in identifying and locating the causes of radiofrequency interference.
We work with local, state and federal officials to ensure the integrity of a wide variety of communications networks.
In today's modern world, electronic devices are practically everywhere. There are literally billions of electronic devices in use every day. Every so often, one of these devices will malfunction and unintentionally broadcast a signal that can interfere with the radios used by police and fire departments, hospitals, and even the "911-emergency" systems operated by the various local cell phone companies.
We realize the notice at left will seem a bit unusual at first. But if you've ever been a passenger on a commercial aircraft, you're probably familiar with the crew instructions to disable all portable devices during take-offs and landings. Well, the same sort of thing is happening here: Something is causing electrical interference to important radio communications networks in your area. We just need to pinpoint the source, and then see what can be done to return the airwaves to their normal operating condition. In many cases, these issues can be resolved over the phone, but more difficult or complex situations may require a follow-up visit.
We anticipate that you may have several questions.
Please visit our FAQ page for immediate answers to common questions and concerns.
Once you have reviewed this material, we ask that you please contact us as soon as possible so that this interference problem can be resolved.
It is customary to attempt a resolution at the local level before referring cases to the FCC.
Thank you for your understanding and prompt attention.
Signal Finders, LLC
265 S. Federal Hwy #324
Deerfield Beach, FL 33441
Phone: 888-282-4458